Due to increased demand, the Cup has been extended to 25th June.

Due to increased demand, the Cup has been extended to 25th June.
FREE — Join the MATHEMATICS WORLD CUP for 7-11 year olds on June 14th-25th
Welcome to the ultimate mathematics experience from your classroom
Take part in the first-ever, global, physically active Mathematics World Cup competition.   
Challenge local, national, and international schools for the title of the Mathematics World Champion. 
Developed in partnership with the UCL Institute of Education.
Register your class of 7-11 year olds for FREE now!
Only 50 places per country.
Combine

education

with

physical activity

and

mindfulness

to nurture your students' well-being.

Connect

to other innovative educators in a

global classroom

.

Inspire

your students and have them begging for more mathematics.
Bring

glory

to your school and

trophy

cabinet.
Register

for

free

to access full teacher information, only

50 schools

per country.

Invite

other schools to earn

extra points

for your

class

and

country

.

Train

with

free

access to our

Numbertracks

programme.

Compete

between June 14th-25th and let us run the event.

Win

and your class will top the

world leaderboard

.
Minimal

teacher preparation.

Differentiated resources

provided.
A

30-minute video session

delivered by

us

in English.
Take part in the one-off session at

any point

 between the 14th-25th of June.
Students

compete

with classes on screen as well as

schools globally

.
Move up the

leaderboard

in

real-time

with our live scoring interface.

Physical activity

that works even in the smallest of classrooms.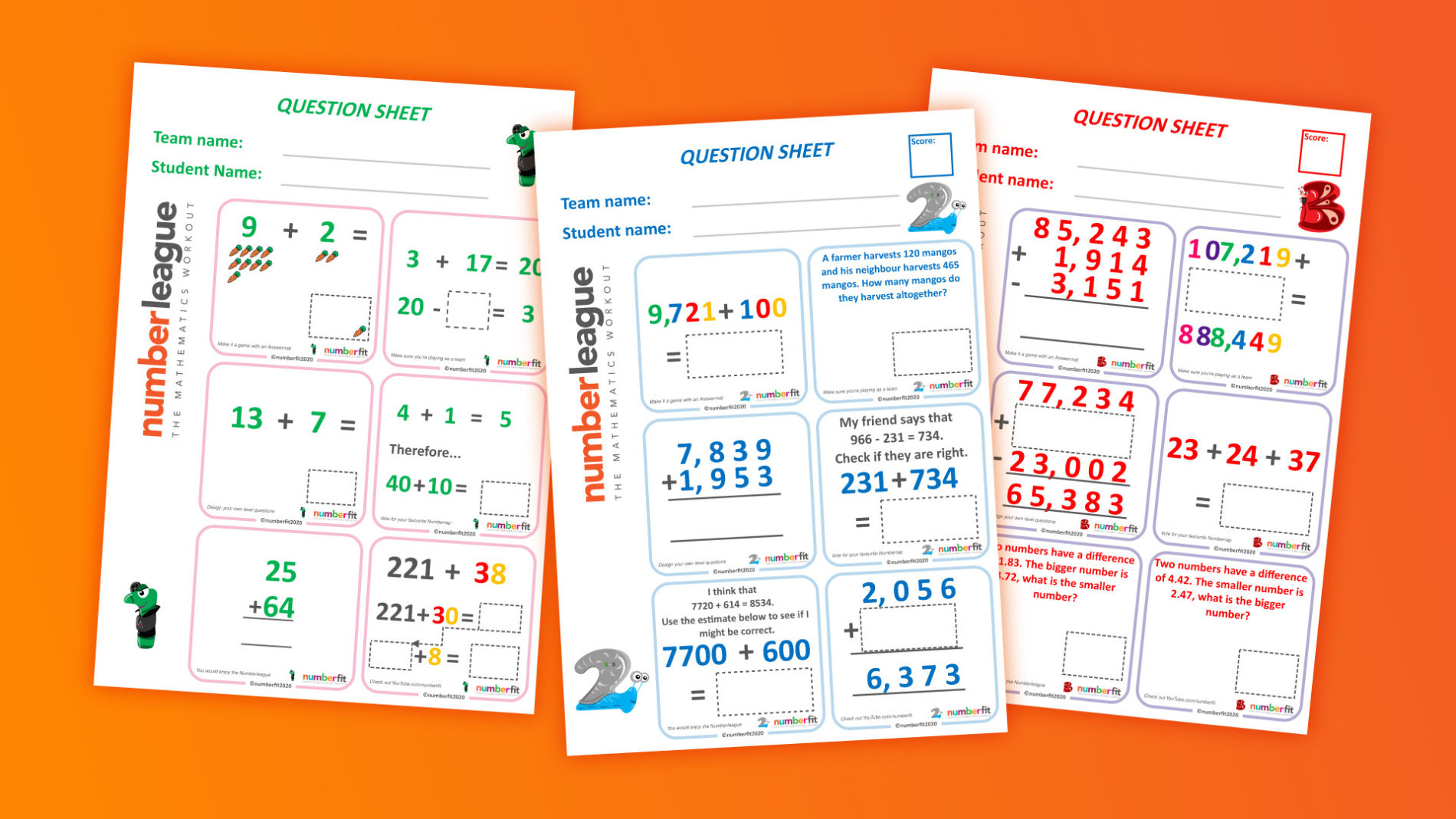 1. Watch our introduction to the Numberleague Free Trial
The video will provide you with an overview of the preparation needed to get started and will explain how the session works.
2. Look at the checklist and tick off as you go
Download the checklist so you've got it to hand as you prepare to take part in the free trial.

Please remember to follow your school's social distancing policy when setting up your classroom for the Numberleague session and leave at least one meter between each player. Allow enough space for players to stand, move on the spot and see the smartboard. To see Numberfit's Covid-19 policy, click here >
The Mathematics World Cup

; possibly the most desired and valuable

trophy

in the world.
The

Numberleague

; compete

live

against other classes.

Glory

; become the world-renowned teacher who coached their class to

World Cup stardom

.
3. Download questions and answers for each of your three teams
Divide your class into three teams that are approximately the same size. Our question sheets cater for three different ability levels so to save on preparation time, we suggest having one team at, one team below and one team above the National Curriculum level. If you'd prefer to have mixed teams, please ensure that each child receives the relevant set of questions for their ability. Each team will need to create an imaginative team name that stands out on the scoreboard!
4. Set up each player's table with a pen or pencil and a questionsheet
Players must have at least one meter between them and be using their individual questionsheet and stationery. 

If you subscribe to Numberleague, all the resources you need for each child can be customised to their ability and will be delivered directly to you which reduces the preparation time. In addition to this, you will also receive Answermats that enable you to visually mark instantly. In line with government advice on Covid-19, everything delivered will be brand new and unused.
5. To begin, press the START button when the session becomes live
Before you get going with your Numberleague session, remember to check the sound and video is working. You will see a countdown on the screen opposite until the next live session at which point you will be able to press the START button to begin.

During the session, teacher instructions will appear on the screen to explain what you need to be doing and a bell noise will sound when this prompt changes.You will also be instructed to add their score into the scoreboard as the class plays
Sign up for World Cup glory or book a call for more information.
Sign up for World Cup glory or book a call for more information.